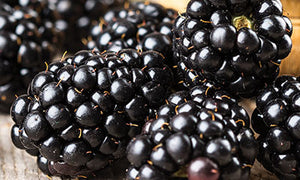 * White flowers, tasty black berries, substantial arching canes, can spread rapidly in good soil, may stay as low as 2' in dry soil, native from Nova Scotia to North Carolina, Missouri.
* The fruit is eaten raw, cooked or dried for later use. A pleasant sweet and somewhat spicy flavour.
* The plant prefers light (sandy), medium (loamy) and heavy (clay) soils and requires well-drained soil.The plant prefers acid, neutral and basic (alkaline) soils..It can grow in semi-shade (light woodland) or no shade.It requires moist soil.
* The blooms arrive in late spring or early summer and produces fruit in the summer.